You may have been asked to donate blood at a local drive or have heard announcements about urgent human blood shortages during disasters, but have you ever wondered where the blood for sick or injured pets comes from? 1st Pet Veterinary Centers has just opened its animal blood bank for the collection, storage, and distribution of pet blood donations. By enlisting your pet as one of our donors, he or she could be the hero that saves the life of a pet in critical need. We are happy to help you determine if your pet is eligible to be a part of this life-saving effort.
Progress in animal blood banking has mirrored the changes seen on the human side, allowing some great alternatives to the options of the past. Before animal blood banks, the veterinary team could request that the owner of a large, healthy pet bring that pet in to donate blood to an animal in need. In other cases there were animals housed in the hospital – specifically for drawing blood as needed in urgent situations. As the science of pet blood donation has advanced, the veterinary community has learned a lot about animal blood types, storage and handling requirements, and blood draw best practices, which now allow for animal blood to be collected in advance and saved until needed.
With only a few animal blood banks in the country, there is a great opportunity for you and your pet to help save the day by preventing the shortages that sometimes arise. Certain situations and times of year (like catastrophic events and major holidays) can make it difficult for animal hospitals to maintain the amount of blood that they need. Also, the distance between animal blood banks and animal hospitals can create obstacles for getting blood in a timely manner. With an in-house blood bank, 1st Pet is now able to maintain a consistent supply of animal blood products. To keep up that supply, the blood bank relies on pet owners bringing their pets in for regular donations. Those pets that donate really are heroes, saving the lives of fellow pets in need.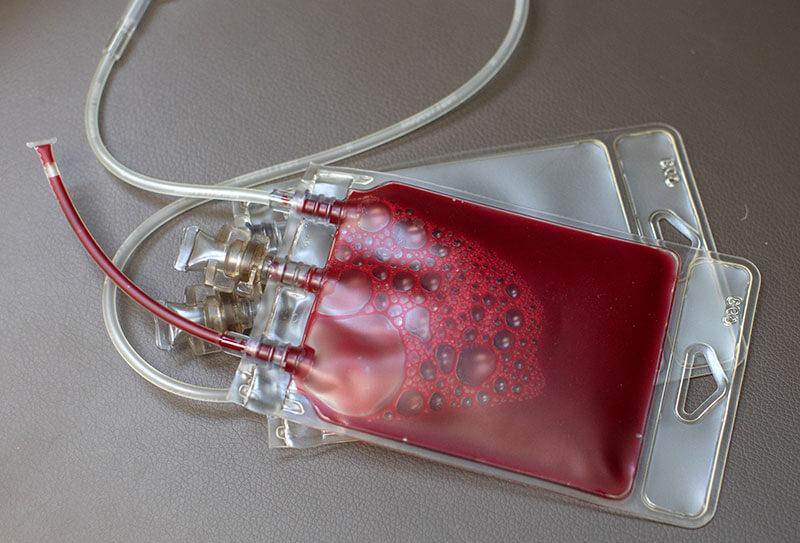 Please call us if you would like to find out if your pet is eligible to be a blood donor. Eligible pet blood donors must meet certain weight, health, and preventative care requirements to be considered for the donation program. Additionally, pet owners are asked to commit to regular donations over the course of one to two years due to the amount of testing and work that must be done to ensure that a new donor is healthy enough to be a donor. There are certain perks that come with having a donor pet, but the best reward of all is knowing how your pet can help save the lives of other pets that would not survive without this life-saving gift.
1st Pet only has the capacity to supply its own sister hospitals at the moment. However, as the program develops, we hope to partner with enough donors to supplement animal blood supply needs across the Valley of the Sun. Give us a call today to be a part of this labor of love.